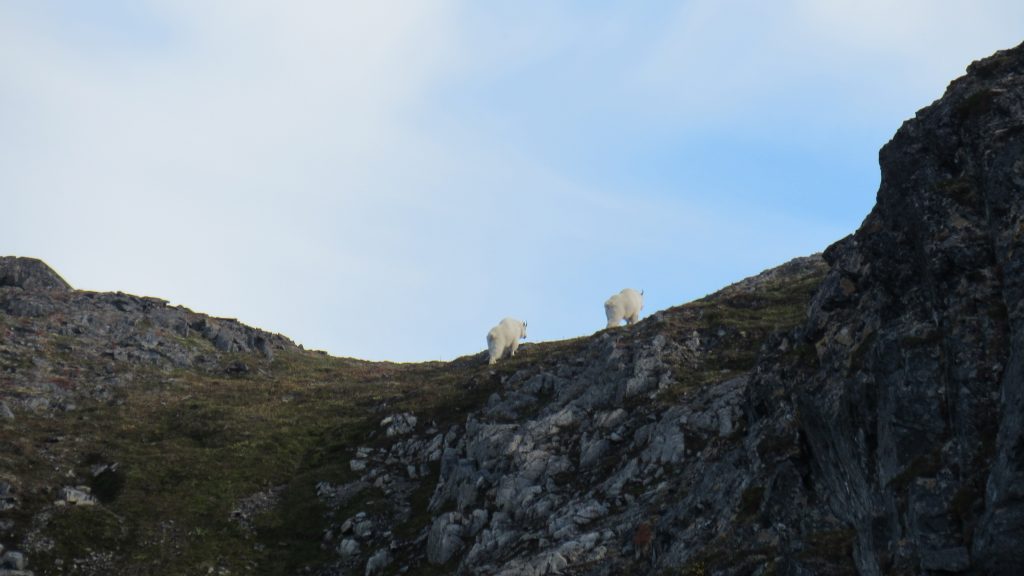 Kodiak Island is fortunate to have an extremely healthy and growing mountain goat population. The island currently issues 500 permits annually, which are divided among nine mountain goat areas. Annual harvest is approximately 180 mountain goats, nearly double the next highest area in the state.
Kodiak mountain goat hunts are currently drawing and registration hunts with an application deadline of December 16. The drawing results are published in early February. We will help you take care of all necessary paperwork. You are allowed to apply for three hunt areas, and in doing so, have approximately a 20% chance of drawing. 
Hunt in truly awesome country, atop our majestic mountains overlooking the many bays that dissect the island. We are fortunate to be able to access this country from mountain lakes, avoiding the thicker vegetation of the lower altitudes, which makes our hunts some of the easier mountain goat hunts offered in Alaska.
Kodiak Outdoor Adventures offers a nine day mountain goat hunt with seven days of hunting and two for travel. It can be combined with Sitka blacktail deer and our Kodiak game bird, the ptarmigan. We normally operate with two guides per hunter, making for one of the safest, most enjoyable and productive mountain goat hunts possible.
We will fully prepare you for your hunt, teach you as much as possible about Kodiak prior to your arrival and offer professional, yet personal, service while you are here. We are extremely experienced with trophy preparation and care and will expedite it to your final destination.
Preparation includes:
Assistance with necessary paperwork
Planning your travel to Kodiak
Guidance on equipment
Summaries from past hunts to help educate you on what to expect regarding terrain, weather conditions, and animal behavior
We also will supply additional information on Kodiak Island and its history, trophy judging and more.
We ask that you, too, prepare as much as possible in order to fully participate in, experience and enjoy your hunt. We pride ourselves in our ability to accommodate anyone that would like to hunt. Our guides go through extensive preparations and train year round to be in top physical condition to ensure your hunt is as productive and enjoyable as we can make it. We ask that you do the same.
Above all, we are committed to making sure that you have the most rewarding, successful and best experience possible.